Hi, I'm Kat, and I spend a lot of time thinking about art and sociocognitive theory. I've been painting and drawing since I was very, very small. It used to be one of the first things people learned about me, but now it's one of the last. I see art as intrinsically tied to science, which may be why I took so much of both in college. To me, understanding one helps you understand the other. I like making things that make people feel things. To me, the art in itself is the transmission of feeling the object elicits. Synapses firing gracefully, elevated, as your eyes cross the surface of the painting, studying the peaks and waves. The things I tend to make are a combination of elegant and visceral.  I think about why we're driven to create things with little purpose except decoration, and perhaps narration. And why I, specifically, am driven to create, and can with some degree of proficiency.
I made this in high school. My professors liked to describe this style as "ugly beauty".
So, as with everything, we can investigate these quandaries with some degree of modality. Four questions, four answers.
Causation – This is perhaps the most difficult question to answer. Whether talent is heritable is still up in the air amongst most people. It's interesting, surely. Jeremy Summers of the Genetic Literacy Project postulates, from a few studies, that artistic ability can be linked to a few things. One is the release of serotonin, albeit not necessarily the inherent presence of it. Many artists have been famously depressed, the most famous probably being Vincent Van Gough. This is something else we share. My work, itself, improves when my mood does. Some of Van Gough's greatest work was done during his stay in the Saint Paul-de-Mausole mental hospital, including Irises, and the one we all know, Starry Night.
Another link to creativity  is, strangely, a shorter bundled strand of fibers in the corpus callosum. The theory here is that it allows for access to both sides of the brain through a shorter path, allowing for a faster and more effective flow of ideas.
Ontogeny– This one is easy enough to answer. As I grew older, I was better exposed to drawings. My mother is extremely creative, and would always shower our house with fresh flowers and coats of paint. She was the first person that taught me to draw. I have had many teachers in my life that have lended me advice and helped to increase my vocabulary of form.
Phylogeny– People make art for many reasons. They make it to hold record, as with Egyptian Hieroglyphics, to record their very presence in this world among many.  They make it to communicate ideas, and make others feel things- at least I do. Some of the oldest pieces of recorded art are hand stencils on the walls of caves in Spain.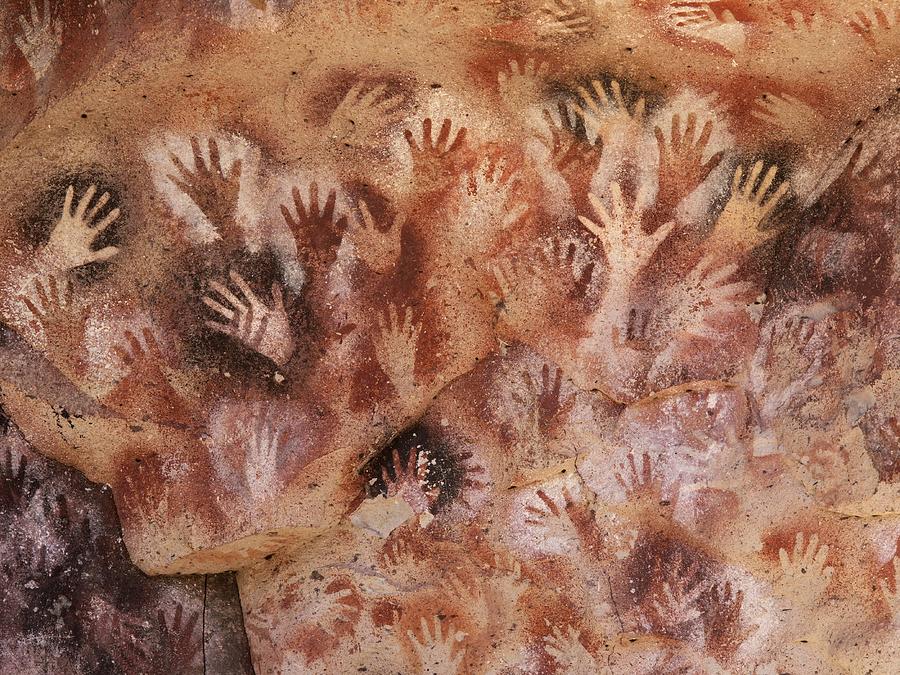 Handprints from the Cueva de las Manos, Spain.
Art has also been used as a plea to the gods, or a ritualistic object. Which brings me into the final question.
Adaptive Value – I couldn't possibly talk about science and prehistoric art without mentioning Mr. Vilayanur S. Ramachandran, a Neuroscientist and Art Historian who speaks about a number of artistic principles in relation to human survival and chemistry. In artistic objects as early as the Venus of Willendorf, Ramachandran talks about a "peak shift"- a change in behavioral response through what is deemed necessary for a species' survival.
The venus is one of the earliest examples of art in existence, made around 30,000 BCE. Found in the icy mountain ranges of Austria, its exaggerated curvature suggests the ideal female form in an environment of scarce resource. This shift occurred precisely due to what was seen as fertile, and thereby idealized in this way. It was thought to hold importance as an object of fertility.
The same can be said for more modern art, as well. While not in the same realm of magical thinking, exactly, it does play on some sensory skill developed in early human society, such as grouping and perception. Whether an object of religious significance, cultural commentary, or pure, unadulterated aestheticism, I believe it's important to create. For both audience and viewer. Humans have always created, and I hope they always continue to. Myself included.